​Chris & Amme's Arbonne Awards:
#1 partnership all time income earners in Arbonne History, Most tenured partnership in Arbonne History
Top 50 income Global earners -2006 to present
Million Doll
ar Club,
3xNVP Challenge Winners, 4 NVP Direct ring winner, Top Central Nation volume, Top Central Nation Sponsoring, Promoted over 85 RVPs in all Success lines, Past 13 years-125+ Million in Sales
Speakers for Global Training Conference 2008, 2010, 2012, 2014, 2015, 2016
​Keynote Speakers Canada (CNTC) 2012
Keynote Speakers Maui NVP Retreat 2009,2014, Speakers 2018
Keynote Speakers AAC (Australia) 2015
​Keynote Speakers AAC (United Kingdom) 2017
Arbonne Foundation Board Members 2013-2017.
Featured on Cover of Essentials brochure 2012-2015.
Featured on Cover of Essentials 30 days to Feeling Fit Kit 2012-2015, Featured on Cover of Product Overview 2012-2014
Featured in Product Catalog for Essentials, Pure Vibrance, Phytosport, Opportunity- 2012-2016
Arbonne Nutrition Board member 2013-present
Amme and Chris's Arbonne Video "The Love Match"
(Click here)
Our Nations: Renee Scott, Courtney Zimmermann, Erin Ferrell, Jessica Swierczek, Samantha Muleady, Shea Hirchag, Christen Bray Lee, Zoe Kinnee
Believe In Arbonne
Success Strategy:
"In order to cross the finish line, you must believe enough to take that first step---
Only then will you be making a difference one stride at a time!"
Have you ever felt like you compete daily, constantly fighting to stay in the race of life? Whether it is running late to work or that meeting that is about to start, Arbonne is the shortcut to winning your race....the race of your life! The "gift" is in helping others down a path towards the race of their dreams!
My personal Arbonne race began in December 2003. A childhood friend called to offer me an incredible opportunity. I had been a 5th grade teacher for 5 years and I was looking for something more out of my life...to be able to make a bigger difference....Enter Arbonne! You see, some of our greatest races in life are not always a track that we plan on taking- but one that shapes our future and defines who we are.
~Amme
Do you want to earn an extra income? Can you start your own business from home for less then $400.00? The answer is "yes" to these questions. Does this business really work? Well...any true business works if YOU work it. I was a huge critic of this industry and this company, at first I said, "don't do that, that is a joke and those types of businesses don't work. I have an MBA and own a large company and that is embarrassing." After I got "proof" from Amme, I had to look at myself and realize that my own company actually owned me and my life. After Amme worked Arbonne part time for two years; this little joke company doubled my company in sales. Needless to say, I sold my company in 2005 and now work part time with Amme creating residual income. Our "little lipstick" business has now had sales over 120 million in the last 13 years, we work smarter, not harder. Does it work? Yes...if YOU work it.
~ Chris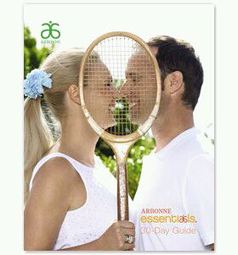 Amme & Chris on the Essentials Catalog Cover and on the Cover for the Product Line overview Catalog for Arbonne International.
7 Avenues of Income with Arbonne:

1. Retail

2. Bonuses

3. Mercedes-Benz Program

4. Overrides

5. Life Insurance Benefits

6. Travel Opportunities

7. Monthly Campaign & Incentive Programs

ARBONNE INTERNATIONAL INCOME DISCLAIMER~THERE ARE NO GUARANTEES REGARDING INCOME, AND THE SUCCESS OR FAILURE OF EACH INDEPENDENT CONSULTANT, LIKE ANY OTHER BUSINESS, DEPENDS ON EACH INDEPENDENT CONSULTANT'S OWN SKILLS AND PERSONAL EFFORT. THE RESULTS OBTAINED BY ANY INDIVIDUAL CONSULTANT ARE ANECDOTAL ONLY AND MAY BE ATYPICAL. ARBONNE IS A PRODUCT-DRIVEN COMPANY THAT STRONGLY ENCOURAGES THE CONSUMERS TO USE ITS PRODUCTS BEFORE ATTEMPTING TO BUILD A BUSINESS.

Believe Nation Inc.